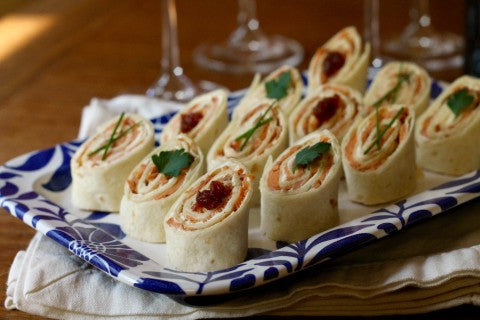 A guest post by Canadian food blogger Korena Vine.
If you're inviting friends over to toast the fall season, why not celebrate with an impressive plate of canapés. And we're not looking far for the ingredients in this recipe. These roll-ups are made with SeaChange Smoked Sockeye Salmon, cream cheese, and Spicy Tomato Jam from one of our favourite local food artisans SaltSpring Kitchen Co. These colourful appetizers are quick to make (or make ahead), and very tasty, with the Spicy Tomato Jam packing a nice little kick alongside the richness of the smoked salmon. Easy to pair with both bold or sweeter wines, these little bites make an impressive addition to a fall potluck menu.
Smoked Salmon, Cream Cheese, and Spicy Tomato Jam Roll-ups
Makes 16 canapés
Ingredients
2 x 12″ flour tortillas
1 x 4 oz / 113 g package SeaChange Smoked Sockeye Salmon
plain cream cheese
SaltSpring Kitchen Co. Spicy Tomato Jam
fresh herbs for garnish, such as parsley or chives
Directions
Spread each tortilla with a thin layer of cream cheese right to the edge, then spread a thin layer of Spicy Tomato Jam (more or less, depending on your taste) over the cream cheese, leaving a 1/2″ border of cream cheese around about a third of the tortilla but otherwise spreading right to the edge.
Open the SeaChange Smoked Sockeye Salmon with scissors and pour off the juice. Flake the salmon into very small pieces and divide evenly over the two tortillas, again right to the edge except for the one border of cream cheese. Press lightly to adhere the salmon to the cream cheese and tomato jam.
From the edge opposite the border of cream cheese, roll up the tortilla into a tight cylinder – the cream cheese border will act as "glue" to help it stay closed once it is rolled. At this stage, the tortilla rolls can be wrapped tightly in plastic wrap and refrigerated for several hours. To serve, use a sharp, serrated knife to trim off the ends (if you wish) and cut each roll into 8 slices. Place on a serving platter and garnish each roll-up with fresh herbs or a little dollop of Spicy Tomato Jam.
Serve with a good Canadian Pinot Noir or Pinot Gris (all 3 of our local Salt Spring Island wineries – Garry Oaks, Mistaken Identity, and Salt Spring Vineyards – produce their own).
Related Products
The post Smoked Salmon, Cream Cheese, and Spicy Tomato Jam Roll-ups appeared first on SeaChange Seafoods - Unique Canadian Gifts.