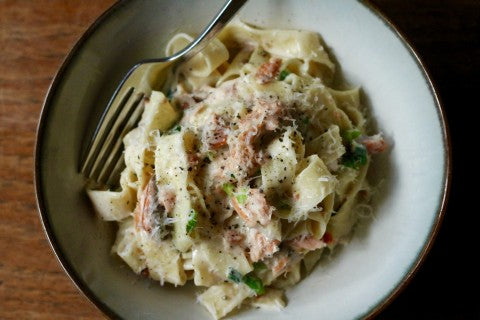 A guest post by Canadian food blogger Korena Vine.
There is nothing so comforting as a bowl of pasta, and with the addition of SeaChange smoked sockeye salmon, this Italian American classic takes on a Canadian twist. Fresh al dente pasta and a rich creamy sauce dotted with flakes of smoked salmon – what's not to love? Delicious and elegant, a little bit of smoked salmon goes a long way in this dish, and it couldn't be easier – or quicker – to whip up. The simple cream sauce simmers together in the time it takes the fresh pasta to cook, then everything is tossed together with tongs. A little squeeze of lemon juice for brightness, a sprinkle of parmesan cheese, and it's ready to eat.
The recipe below serves a decadent dinner for two, but it could easily be doubled to serve four using a 227 g package of smoked salmon (perfect for a small dinner party). If you are looking for ways to use SeaChange smoked salmon beyond appetizers, look no further: this is a main dish you won't want to miss.
Fettucine Alfredo with Smoked Sockeye Salmon
Serves 2
Ingredients
225 g (8 oz) fresh fettuccine pasta
113 g (4 oz) SeaChange Smoked Sockeye Salmon
1 tbsp butter
2 green onions, sliced thinly on the diagonal
1/2 cup heavy cream (whipping cream)
2 heaping tbsp sour cream
Handful of freshly grated parmesan cheese
Squeeze of lemon juice
Salt and pepper to taste
Directions
Cook the pasta in a large pot of salted boiling water. While the pasta cooks, sauté the green onions in butter in a saucepan over medium heat. Add the heavy cream and sour cream and bring to a simmer. Open the package of smoked salmon with scissors and drain off the juice (discard or reserve for another use). Flake the salmon into small pieces and add to the cream sauce, stirring gently to heat through. Drain the pasta once it is cooked al dente, reserving about 1/2 cup of the pasta water, and return the pasta to the pot. Pour in the cream sauce and add salt, pepper, and a good handful of freshly grated parmesan cheese. Toss gently with tongs to coat the pasta, adding a splash of the reserved pasta water if necessary to make a thin, silky sauce. Divide the pasta between two bowls and top with more parmesan, freshly ground pepper, and a good squeeze of lemon juice.
Related Products
The post Fettuccine Alfredo with Smoked Sockeye Salmon appeared first on SeaChange Seafoods - Unique Canadian Gifts.