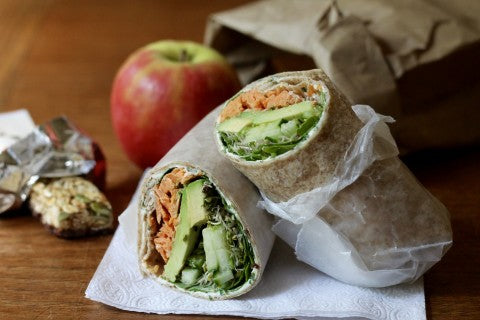 A guest post by Canadian food blogger Korena Vine.
This is the season when kids and parents across the country are gearing up for another year of school, and the internet is full of back-to-school-lunch ideas. Even if you're not heading back into a classroom this September, chances are that you still take your lunch to work most days. Now ask yourself, and be honest: are you eating a sad desk lunch? Now is a great opportunity to hit the reset button and use all that back-to-school-lunch inspiration to level up your midday meal. And SeaChange is here to help with a delicious veggie and avocado-filled smoked salmon wrap.
Here, we took a whole wheat wrap and spread it with herbed cream cheese (which you can mix up yourself using plain cream cheese and fresh herbs, or for an even quicker route, use a ready-made flavoured cream cheese), layered it with greens, spicy sprouts, creamy avocado, cool and crunchy cucumber, and topped it off with SeaChange Smoked Sockeye Salmon. Extremely tasty, and easily portable, this wrap will definitely lift your lunch – whether it's eaten at the office or at school – into the realm of not sad desk lunch! Enjoy!
Smoked Sockeye Salmon, Veggie and Avocado Wrap
Makes 2 wraps
Ingredients
2 whole wheat wraps
4 tbsp Herbed Cream Cheese (see below) or flavoured cream cheese such as herb and garlic or dill
handful of salad greens (such as spinach, arugula, frisee, baby lettuce mix)
handful of sprouts
8 slices of cucumber, stacked and sliced into matchsticks
1/2 ripe avocado, sliced
227 g SeaChange Smoked Sockeye Salmon
salt and pepper
Directions
Spread the cream cheese evenly over each wrap, right to the edges. Top each wrap with half the salad greens, half the sprouts, half the cucumber, and half the avocado. Season the avocado with salt and pepper.
Open the package of smoked sockeye salmon with scissors and drain off the juice (discard or reserve for another use). Slide the salmon out onto a plate and break it into larger, bite-sized pieces. Place half of the salmon on top of the veggies in each wrap. Fold the wrap over the filling and roll it up to secure, tucking in the ends of the wrap as you go. Cut the wrap in half with a serrated knife and enjoy.
For the Herbed Cream Cheese, mix together:
4 tbsp plain cream cheese
1 tsp minced chives
1 tsp minced parsley
1/4 tsp lemon zest
ground black pepper
Related Products
The post Smoked Sockeye Salmon, Veggie, and Avocado Wrap appeared first on SeaChange Seafoods - Unique Canadian Gifts.