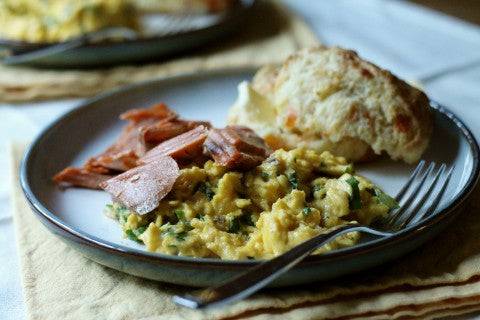 A guest post by Canadian food blogger Korena Vine.
They say that breakfast is the most important meal of the day, and this simple yet elegant menu gives it the attention it deserves, perfect for entertaining or for a "special occasion" breakfast. SeaChange Smoked Sockeye and fresh herbs fancy-up scrambled eggs, and the whole thing is set off with a sprinkle of Lemon Zest Fleur de Sel from Salt Spring Sea Salt. If you really want to impress your breakfast companions, serve this with some warm scones, either homemade or from your favourite bakery (if you happen to be on Salt Spring Island, may we suggest the delectable scones from Bite Me! Treats?).
The trick to the creamiest scrambled eggs is low heat and about ten minutes of patience – but you will be rewarded with something far more decadent than "just eggs", especially when topped with smoked salmon and flecked with lemon-y fleur de sel. Both of these ingredients can be kept on hand in the pantry, so make sure you stock up for any upcoming house guests or worthy occasions!
Herby Scrambled Eggs with Smoked Salmon and Lemon Zest Sea Salt
The amounts below make 2 servings, but can easily be scaled for larger numbers: you will need 2 eggs and about 60 grams (2 oz) smoked salmon per person.
Ingredients
4 eggs
2 tbsp whole milk or cream
salt and pepper
2 tsp butter
handful of chopped fresh herbs, such as parsley, cilantro, chives/green onions (or a combination)
113 g (4 oz) SeaChange Smoked Sockeye Salmon
Salt Spring Sea Salt Lemon Zest Fleur de Sel
warm scones, to serve
Directions
Open the package of smoked salmon with scissors and pour off the juice (discard or save for another use). With your fingers, flake the salmon into bite-sized pieces and set aside.
Place the butter in a small non-stick pan over low heat and let it melt. Crack the eggs into a medium bowl, add the milk/cream, and beat vigorously with a whisk. Season with salt and pepper. Pour the eggs into the warm pan and let them cook gently, stirring occasionally with a spatula. They will be very liquidy at first, then gradually will start to set on the bottom of the pan and you will see curds of scrambled egg starting to form as you stir. Continue cooking and stirring gently until the eggs are cooked to your liking, about 10-15 minutes. Remove from the heat and fold in the chopped fresh herbs, then divide onto 2 plates. Sprinkle each serving with a pinch of Lemon Zest Fleur de Sel, and top with 60 g (2 oz) of smoked salmon. Serve immediately with the warm scones alongside.
Related Products
The post Herby Scrambled Eggs with Smoked Salmon and Lemon Zest Sea Salt appeared first on SeaChange Seafoods - Unique Canadian Gifts.