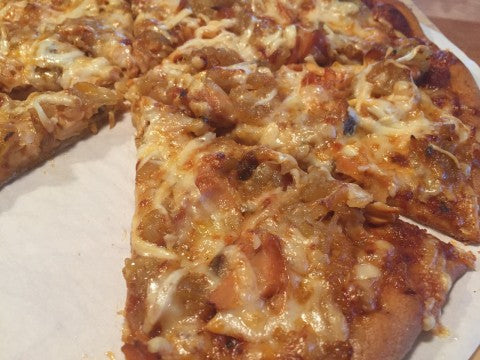 by SeaChange founder, Anne Millerd
We mostly enjoy our own salmon as an appetizer, but this is my favourite way to serve SeaChange salmon as a main course. Maple Glazed Smoked Salmon tastes just amazing with sweet caramelized onions.
I enjoy making this pizza for the kind of guests who hang out in the kitchen while I am cooking. I roll out the dough ahead of time, and slice the onions, but leave the rest of the prep to do when my company is seated with their beverage of choice on a kitchen stool.
In this recipe I suggest using a 227g package of Maple Glazed Smoked Salmon for one pizza, but sometimes I make the same recipe spreading the salmon out over two pizzas. It's still delicious, just not quite as rich. (You do need to double the other ingredients.)
Anne's Pizza with Maple Glazed Smoked Salmon and Caramelized Onions
Serves 2-4
Ingredients
1 x 15 inch thin pizza crust
3 tbsp olive oil
3 large onions, sliced
1/2 tsp salt
1/2 tsp sugar
1/3 of a 14 ounce tin Eden Organic Pizza Pasta Sauce (or any other tomato sauce)
1 x 227g package SeaChange Maple Glazed Smoked Salmon
1 cup grated white cheddar cheese (I use goat's milk cheddar)
1/3 cup grated parmesan (I use pecorino romano)
Directions
Step 1: Prepare the crust
If you are making your own crust, mix up the pizza dough a couple of hours ahead, and roll it out about 90 minutes before you want to serve dinner.
Step 2: Caramelize the onions
Pour yourself a glass of wine. Place the olive oil in a heavy frying pan. Add the onions and the salt. Cook, stirring occasionally, over medium-low heat for 20 minutes or so. Add the sugar and salt. Continue cooking and stirring until the onions are golden. (They will be almost like a purée.) This can take up to 40 minutes in total – so this is where the visiting with friends comes in. (You can also do this earlier in the day.)
Step 3: Build the pizza
Preheat oven to 425 degrees. Spread the pizza crust with the tomato sauce. Drop the caramelized onions in small spoonfuls on the crust, spreading them out evenly. Open the package of Maple Glazed Smoked Salmon, discarding the juice. Break the salmon into flakes, and distribute evenly over the pizza. Sprinkle the cheddar cheese over the salmon and onions. Top with a light sprinkle of parmesan or pecorino.
Step 4: Cook the pizza
Bake for 15 to 20 minutes, until bubbling all over. Remove from the oven and allow to cool 5 to 10 minutes. Serve with a green salad.
Related Products
The post Anne's Pizza with Maple Glazed Smoked Salmon and Caramelized Onions appeared first on SeaChange Seafoods - Unique Canadian Gifts.