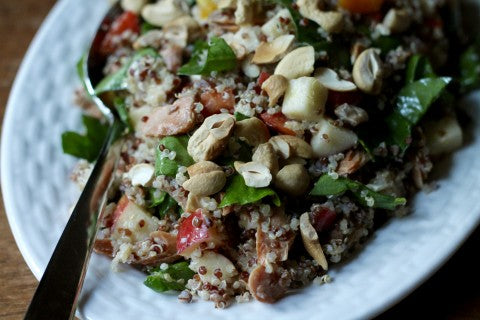 A guest post by Canadian food blogger Korena Vine.
If you follow food trends, you might recognize many of the ingredients in this salad – quinoa, salmon, spinach, apples, nuts – as "superfoods", aka nutritionally-dense edibles said to boost optimum health. While the health claims may or may not be true, the reason for their inclusion in this recipe is simply that they taste great together. Quinoa is an excellent backdrop for SeaChange's delicate Ice Wine Glazed Smoked Salmon, and when tossed together in a salad with a few other delicious ingredients, a little goes a long way.
The finishing touch is a dressing featuring Salt Spring Island Artisan Vinegar's Raspberry Champagne Vinegar, which is light and fruity and just tangy enough to make the whole salad sing. It's easy to throw together for a casual lunch, but like most grain-based salads, it's also sturdy enough to be portable – make a double batch to bring to your next picnic or potluck, and watch it disappear. Health food never tasted so good!
Quinoa Salad with Ice Wine Glazed Salmon and Raspberry Champagne Vinaigrette

Makes 2-3 servings. Can easily be doubled.
Ingredients
Raspberry Champagne Vinaigrette
1 tbsp Salt Spring Island Artisan Vinegar Raspberry Champagne Vinegar
2 tbsp extra virgin olive oil
1/2 tsp liquid honey
salt and pepper
Salad
1 1/2 cups cooked and cooled quinoa (from 1/2 cup uncooked quinoa – white, red, or a combination)
1/2 cup diced red and/or yellow bell pepper
1/2 an apple, diced
100g SeaChange Ice Wine Glazed Smoked Salmon
35g (1.25 oz) chopped spinach
50g (1.7 oz) soft goat cheese (chèvre), crumbled
1/4 cup coarsely chopped toasted cashews
Directions
In a jar with a tight-fitting lid, combine all the vinaigrette ingredients and shake vigorously until combined and slightly thickened.
In a large bowl, toss together the quinoa, bell peppers, apple, and spinach. Pour over the vinaigrette and toss to combine.
Open the package of Ice Wine Glazed Smoked Salmon with scissors and drain off the juice. Flake the salmon into small pieces with your fingers and add to the quinoa mixture along with the crumbled goat cheese. Fold gently to combine. Sprinkle with the toasted cashews just before serving.
The salad can be made several hours or up to one day ahead: follow the recipe as above but keep the spinach and toasted cashews separate. Just before serving, fold in the spinach and top with the cashews.
Related Products
The post Quinoa Salad with Ice Wine Glazed Salmon & Raspberry Champagne Vinaigrette appeared first on SeaChange Seafoods - Unique Canadian Gifts.