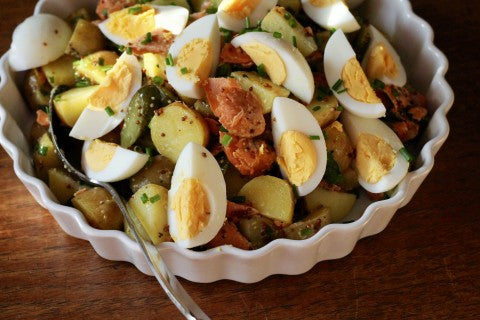 A guest post by Canadian food blogger Korena Vine.
The only thing better than homemade potato salad is homemade potato salad kicked up a notch with the addition of SeaChange Smoked Sockeye Salmon. This version takes a nod from the classic potato salad with vinegary pickles and creamy-yolked hard boiled eggs, but veers into non-traditional territory with a grainy mustard and lemon vinaigrette replacing the usual mayonnaise dressing and of course, the smoked salmon. Potato salad is often relegated to side dish territory, but the inclusion of smoked salmon means that this salad could instead be the main event. Even better, it can be served warm or cold, making it great as a make-ahead dish to take to a potluck or picnic, or to enjoy as leftovers the next day.
Smoked Salmon Potato Salad
Adapted from Canadian Living. Serves 4 but could easily be doubled to feed a larger crowd using a 454 g package of Smoked Sockeye Salmon.
Ingredients
700g small, yellow-fleshed potatoes, scrubbed
2 tbsp lemon juice
4 tsp olive oil
4 tsp grainy Dijon mustard
2 tbsp sliced green onions, plus more for garnish
1 tbsp chopped parsley
salt and pepper
8 small cornichon pickles, sliced
227g SeaChange Smoked Sockeye Salmon
4 hard boiled eggs, peeled and quartered
Directions
In a medium pot, boil the potatoes in plenty of well-salted water for about 15 minutes, until tender enough to pierce with a fork. Drain and set aside until just cool enough to handle.
While the potatoes are cooking, whisk together the lemon juice, olive oil, mustard, green onions and parsley in a medium bowl to make the dressing. Season with salt and pepper.
Cut the potatoes into quarters and add to the dressing along with the sliced cornichon pickles, tossing gently to combine. Open the package of Smoked Sockeye Salmon with scissors and drain off the juice. Slide the salmon out onto a plate and break it into larger, bite-sized pieces. Add to the potato mixture and fold gently to combine. Adjust the seasoning with salt and pepper to taste, then transfer the salad to a serving bowl or platter. Top with the quartered hard boiled eggs and sprinkle with additional sliced green onions. Can be served warm, or refrigerated until cold and served chilled. Leftovers can be refrigerated for up to 2 days.
Related Products
The post Smoked Salmon Potato Salad appeared first on SeaChange Seafoods - Unique Canadian Gifts.