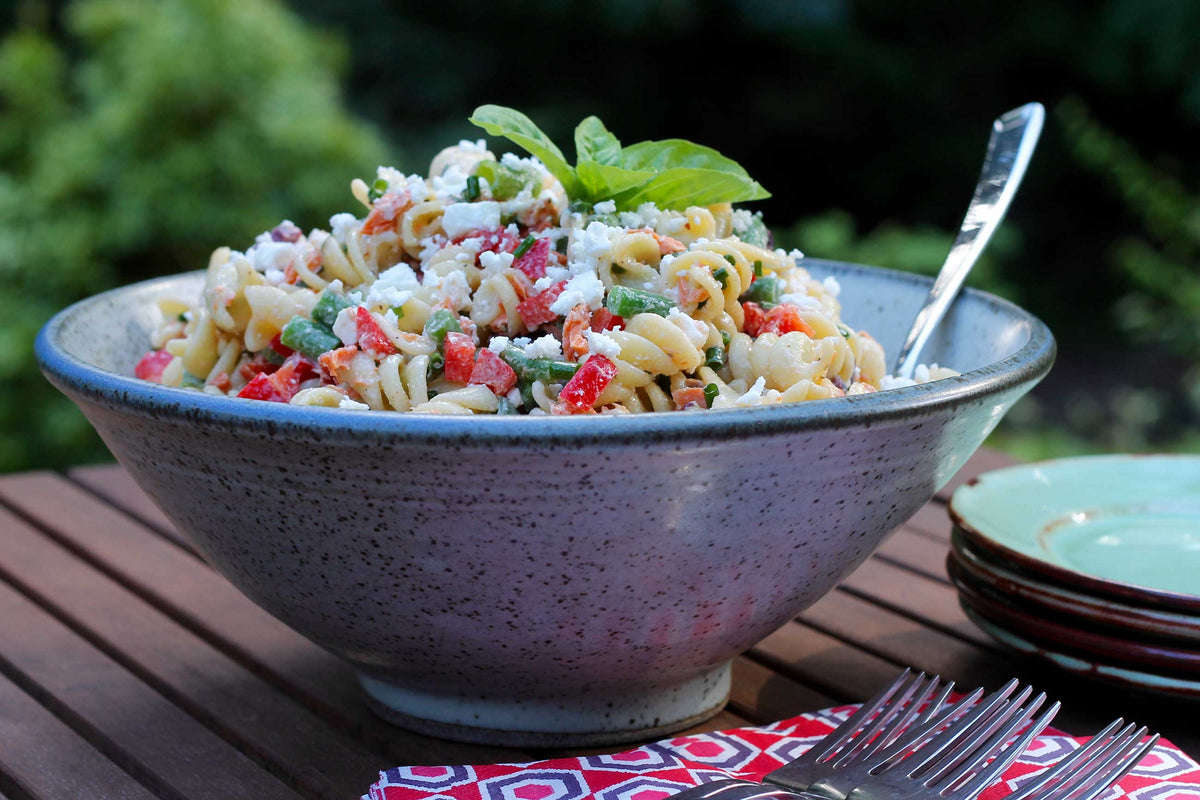 A guest post by Canadian food blogger Korena Vine.
Summer is a great time for picnics, and pasta salads are a picnic's best friend: not only are they a make-ahead dish, they travel well, aren't too fussy, and are easy to eat off a paper plate. This one is elevated above the typical mayonnaise-laden macaroni salad by the addition of SeaChange Smoked Sockeye Salmon and feta cheese from the renowned Salt Spring Island Cheese Company. These are two strong flavours that nonetheless play well together. The salmon gives a smoky richness to the salad, and the goat's milk feta, which is a little milder than cow's milk feta, adds a lovely creaminess.
Green beans and basil give the salad some colour and freshness, but they could easily be replaced with whatever is in season – lightly blanched asparagus or broccoli florets, chives or parsley would be equally good. Likewise, the shape of the pasta is open to interpretation: I used rotini, but farfalle (bowties), cavatappi (corkscrews), elbow macaroni or even shells would also work – the more nooks and crannies the pasta has, the better to catch the dressing and flavourful add-ins, which, in the case of smoked salmon and feta cheese from Salt Spring Island, you and your fellow picnic-goers definitely won't want to miss!
Smoked Salmon Pasta Salad with Salt Spring Island Cheese Company Feta
Makes enough for a crowd (6-8 as a side dish)
Ingredients
12 oz dry rotini or other short pasta
1 cup diced green beans
1 x 4 oz / 113 g package SeaChange Smoked Sockeye Salmon
1 cup diced red pepper
1/2 cup Salt Spring Island Cheese Company St. Jo Feta, crumbled
1/4 cup pitted Kalamata olives, sliced
1-2 green onions, thinly sliced
4-5 large basil leaves, torn, plus a few extra leaves for garnish
salt and pepper
Directions
Bring a large pot of salted water to a boil and add the pasta. Cook according to the package directions until al dente. In the last few seconds of cooking, add the green beans and blanch them until they just turn bright green. Drain the pasta and green beans but do not rinse. Place in a large bowl and while still warm, toss with about half of the creamy garlic dressing (recipe below).
Open the SeaChange Smoked Sockeye Salmon with scissors and pour off the juice. Break the salmon into small pieces and add it to the pasta along with the rest of the ingredients. Toss gently to combine, adding more dressing if necessary to lightly coat the ingredients, and season with salt and pepper to taste (go easy on the salt, as the feta and olives are salty too). Refrigerate the pasta salad for 3-4 hours to let the flavours meld, then garnish with some whole basil leaves before serving.
Creamy Garlic Dressing
Makes about 1 cup
Ingredients
1/4 cup mayonnaise
2 tbsp apple cider vinegar
1 tbsp lemon juice
1 tbsp liquid honey
1 tsp Dijon mustard
1 clove garlic, minced
1/2 cup vegetable oil
salt and pepper
Directions
Combine everything but the vegetable oil and salt and pepper in a blender. With the motor running, slowly pour in the vegetable oil in a steady stream, until the dressing thickens and emulsifies. Season to taste with salt and pepper. Excess dressing can be store in the fridge in a jar for about a week – it's excellent on a green salad.
Related Products
The post Smoked Salmon Pasta Salad with Salt Spring Island Cheese Company Feta appeared first on SeaChange Seafoods - Unique Canadian Gifts.