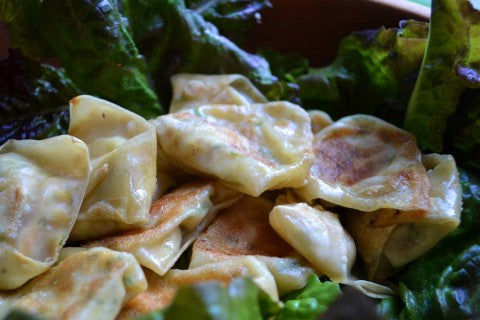 by SeaChange foodie Frances Millerd
Crispy on the outside, creamy and herb-flecked on the inside. These little morsels look premeditated, but they weren't. I had a package of smoked salmon in the cupboard, ricotta in the fridge and wonton wrappers in the freezer. I snipped a few fresh herbs from my window box and voila. I served these as part of an appetizer spread, but they could make a lovely lunch or light dinner with a green salad. These dumplings are surprisingly fast to whip up, freeze well and can go directly from freezer to skillet.
Ricotta and Herb Dumplings with SeaChange Smoked Salmon
Ingredients
1 cup ricotta
1 minced shallot
zest of one small lemon
2 tbsp fresh dill, minced
2 tbsp fresh chives, minced
2 tbsp olive oil
113g package of
SeaChange Smoked Sockeye Salmon
1 package of wonton wrappers
olive oil, for frying
fresh lemon juice, for serving (optional)
coarse sea salt (optional)
Directions
Combine all of the filling ingredients except the salmon in a mixing bowl and stir until combined. Add the salmon, gently breaking it up and stirring until just blended. You want to keep some small chunks of salmon rather than whipping it into a pâté.
Lay out several wonton wrappers at a time for quick assembly-line dumpling production. Place 1 to 1 1/2 teaspoons of filling in the centre of each wrapper. To seal the dumplings, wet a finger in water and run it along the edge of the wrapper before folding. Follow the directions on the package (or see the above photo) and fold the square in half to make a triangle then two of the triangle points toward the centre like two crossed arms.
If you wish to freeze the dumplings, place them on a baking sheet in the freezer until frozen to touch before combining them in a freezer bag.
To cook, heat about a tablespoon of olive oil in a large skillet over medium-high, then add dumplings to cover the surface of the pan. Fry for 4-5 minutes until golden brown then flip the dumplings and cook another 3-4 minutes. Serve with a squeeze of fresh lemon juice.
Related Products
The post Ricotta and Herb Dumplings with SeaChange Smoked Salmon appeared first on SeaChange Seafoods - Unique Canadian Gifts.