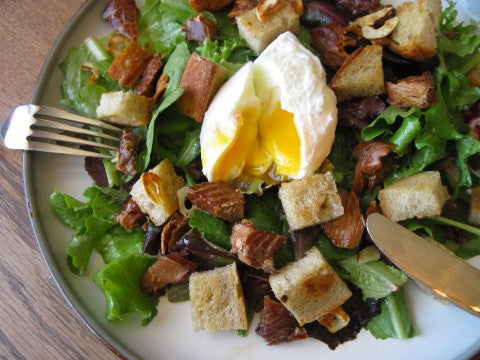 A guest post by Canadian food blogger Korena Vine.
Salad Lyonnaise is a classic French bistro salad of greens in a Dijon vinaigrette topped with a poached egg, croutons, and bacon lardons. I've had it floating around in the back of my mind for a while, and I finally got around to making it for lunch recently. I added golden-fried garlic and swapped out the bacon for SeaChange Candied Wild Smoked Salmon with its assertive smokiness and slight sweetness (smoked sockeye salmon or even pieces of smoked salmon bites would also be good choices). It was delicious – a great way to make a salad feel a little bit more decadent but still easy and fresh.
Salad Lyonnaise with SeaChange Candied Salmon
Inspired by Simply Recipes.  Serves 1.
Ingredients
1 tsp butter, plus more for buttering the bread
1 clove garlic, thinly sliced
1 slice crusty French or Italian bread, buttered on both sides and cut into cubes
1 egg
1 70-gram package SeaChange Wild Candied Smoked Salmon
1 tbsp olive oil
1 tbsp white wine vinegar
1/2 tsp Dijon mustard
salt and pepper
2 big handfuls of salad greens
Directions
In a small non-stick pan, melt 1 tsp butter over medium heat. When it sizzles, add the garlic and buttered bread cubes. Cook, turning the bread once, until the bread is golden brown on both sides and the garlic is crisp and brown.
Meanwhile, poach the egg in a small pot of simmering water until cooked to your liking. When it is done, remove it from the water and set aside until you are ready to assemble the salad.
Open a package of candied smoked salmon with scissors, place the salmon on a plate, and break it into bite-sized pieces with your fingers.
In a medium bowl, whisk together the olive oil, white wine vinegar, Dijon mustard, and salt and pepper to make the dressing. Add the salad greens and toss to coat. Place the dressed greens on a plate and top with the candied salmon, croutons, garlic, and poached egg.
Enjoy this post? Enjoy more recipes by Korena Vine at Korena in the Kitchen!
Related Products
The post Salad Lyonnaise with SeaChange Candied Salmon appeared first on SeaChange Seafoods - Unique Canadian Gifts.