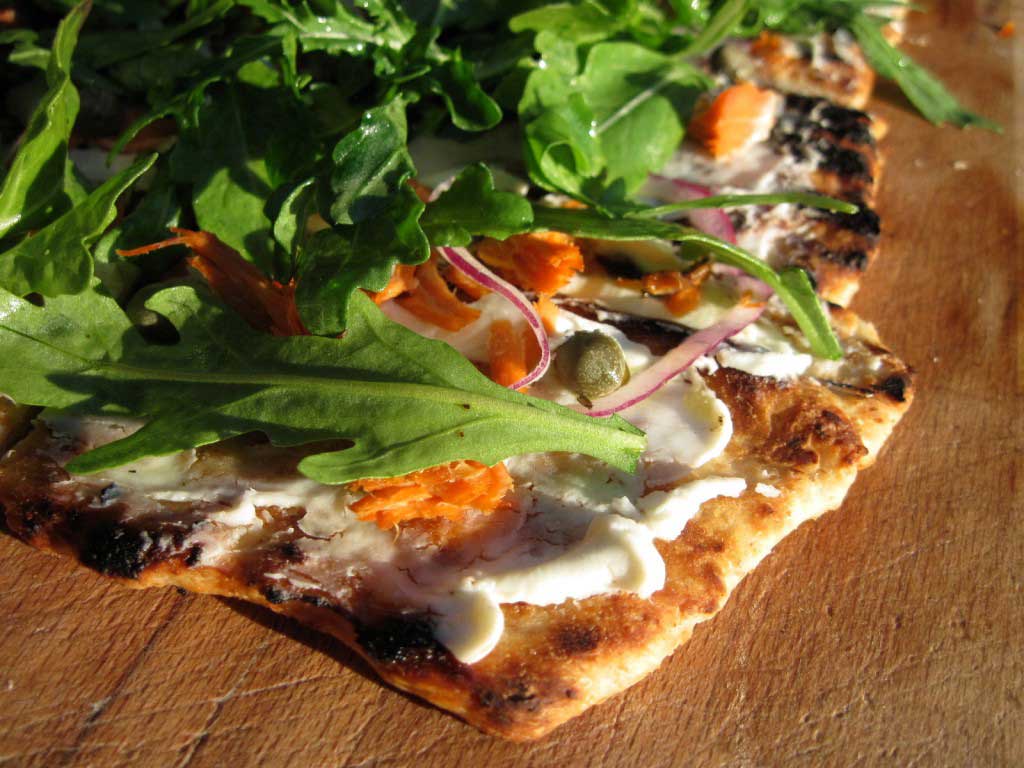 A guest post by Canadian food blogger Korena Vine.
Have you ever tried making pizza on the grill? I finally got the technique down thanks to this article, and it is a wonderful thing to add to your summer grilling arsenal. I topped this pizza with soft goat cheese, SeaChange smoked sockeye salmon, red onions, capers, and arugula and it was really delicious. The trick to a good grilled pizza is to have everything ready before you start cooking, to use lots of olive oil to keep things from sticking, and to grill over low heat. We ate these pizzas for dinner, but they would be wonderful as an appetizer at an outdoor barbecue, served straight off the grill as you make them – a great way to celebrate this warm Canadian summer.
I often see raw cold smoked salmon, aka lox, being used on pizza – however, being raw, it is best served cold, and serving it on a hot pizza totally changes the texture and (in my opinion) makes it taste extra fishy. SeaChange Smoked Salmon is a much better option for topping a pizza. Like lox, it is cold smoked, but then it is fully cooked. This means that its flavour and texture don't change when used in a hot dish, and the taste you are expecting is the taste you get. Definitely important when cooking with something as delicious as smoked salmon!
Grilled Pizza with Smoked Salmon, Goat Cheese & Arugula
Makes two small pizzas, enough to serve 4 – 6 as an appetizer or 2 as a meal.
Ingredients
454g pizza dough, homemade or store-bought
113g package of SeaChange Smoked Sockeye Salmon
113g soft goat cheese
1 tbsp drained capers
thinly sliced red onion
two big handfuls of arugula
half a lemon
olive oil
salt and pepper 
Directions
Divide the pizza dough in two. Rub a baking sheet with olive oil, then stretch each piece of pizza dough into a rectangle to fit on half of the baking sheet. Brush the top surface of each with olive oil.
Open the package of smoked salmon with scissors, pour off the juice, and break the fish into pieces with your fingers. Place it on a plate or cutting board along with the capers, red onion, and goat cheese. Place the arugula in a bowl with the lemon half nearby.
Preheat the barbeque grill to low heat. Place the pizza bases, toppings, arugula and lemon, olive oil, salt and pepper, and two metal spatulas nearby, leaving yourself with some space to work.
When the grill is hot, lightly oil the grates with olive oil using a silicon brush. Place one of the pizza bases on the grill, close the lid, and cook for 3 – 5 minutes, until golden brown and firm on the bottom. Remove the pizza base from the grill using the two spatulas and place it grilled-side up on your work surface. Brush it with a little olive oil, spread it with some goat cheese, and top it with half the smoked salmon, some red onion, and a few capers. Place it back on the grill and cook for another 3 – 5 minutes until golden brown on the bottom.
Meanwhile, dress the arugula with a squeeze of lemon, a splash of olive oil, and some salt and pepper. Remove the cooked pizza from the grill, drizzle it with a little more olive oil, and cut into pieces. Top it with a handful of arugula and serve immediately. Repeat with the second pizza.
Enjoy this post? Enjoy more recipes by Korena Vine at Korena in the Kitchen!
Related Products
The post Grilled Pizza with Smoked Salmon appeared first on SeaChange Seafoods - Unique Canadian Gifts.