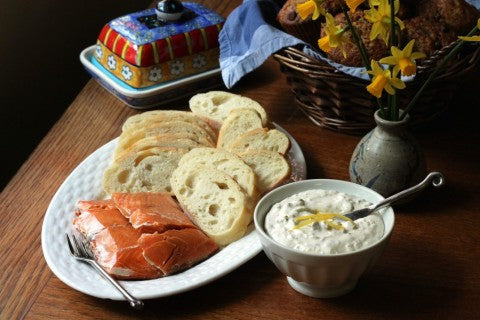 A guest post by Canadian food blogger Korena Vine.
Thank goodness Spring is upon us! This is one of my favorite times of year, when everything wakes up from Winter: the trees bud out, the grass and flowers start to grow, the birds sing in the morning again – it makes me want to celebrate. And frankly, I can't think of a better way to celebrate Spring than with an Easter brunch. So, last weekend I pulled together an easy-to-make menu starring SeaChange Smoked Sockeye and invited some friends over to celebrate a little bit early.
SeaChange's delicious smoked salmon is so good on its own that you don't even need to do anything fancy to it – just open the package, slice up a baguette, and serve with a smear of cream cheese. However, if you want to up the ante a bit (we are celebrating, after all), you can make a flavoured cream cheese. Smoked salmon is often garnished with capers, red onion, and lemon wedges, and it can get kind of finicky trying to assemble your little baguette slice with all those extra components. To solve this, I stirred capers, red onion, and lemon zest right into the cream cheese so you can just spread it onto a baguette and then get down to eating. Even better, you can make this the night before to save yourself some time in the morning and let the flavours meld.
Along with the smoked salmon and lemon caper cream cheese served with sliced baguette (it could also be served with toasted bagels), my early Easter brunch menu included a family-style omelette filled with brie and cheddar cheese made following this method, using 6 eggs in a large 12″ skillet; banana chocolate chip muffins from this banana bread recipe; fruit salad with pineapple, strawberries, grapes, orange, and apple; and crisp bacon. It was all tasty and easy to prepare, and I hope it provides some inspiration for your own Easter brunch. Here's to Spring!
SeaChange Smoked Salmon with Lemon Caper Cream Cheese
Serves 8-10 (this recipe can be halved)
Ingredients
8 oz/227 g cream cheese, at room temperature
3 tbsp plain Greek yogurt
1 tbsp finely chopped red onion
1 1/2 tbsp finely chopped capers
grated zest of 1/2 a lemon
squeeze of lemon juice
salt and freshly ground pepper, to taste
SeaChange Smoked Sockeye, to serve
Directions
Combine all the ingredients in a bowl and beat with a mixer until well combined and creamy (you can do this by hand if you are feeling up to it!). Taste and adjust seasoning with salt and pepper as desired. Transfer to a serving bowl. The cream cheese can be made 1 day ahead of time and kept covered in the fridge (this is recommended to let the flavours meld together). Serve with SeaChange smoked salmon (probably 16 oz/454 g for this amount of cream cheese) and sliced baguette.
Enjoy this post? Discover more recipes by Korena Vine at Korena in the Kitchen!
Related Products
The post Easter Brunch Idea: SeaChange Smoked Salmon with Lemon Caper Cream Cheese appeared first on SeaChange Seafoods - Unique Canadian Gifts.