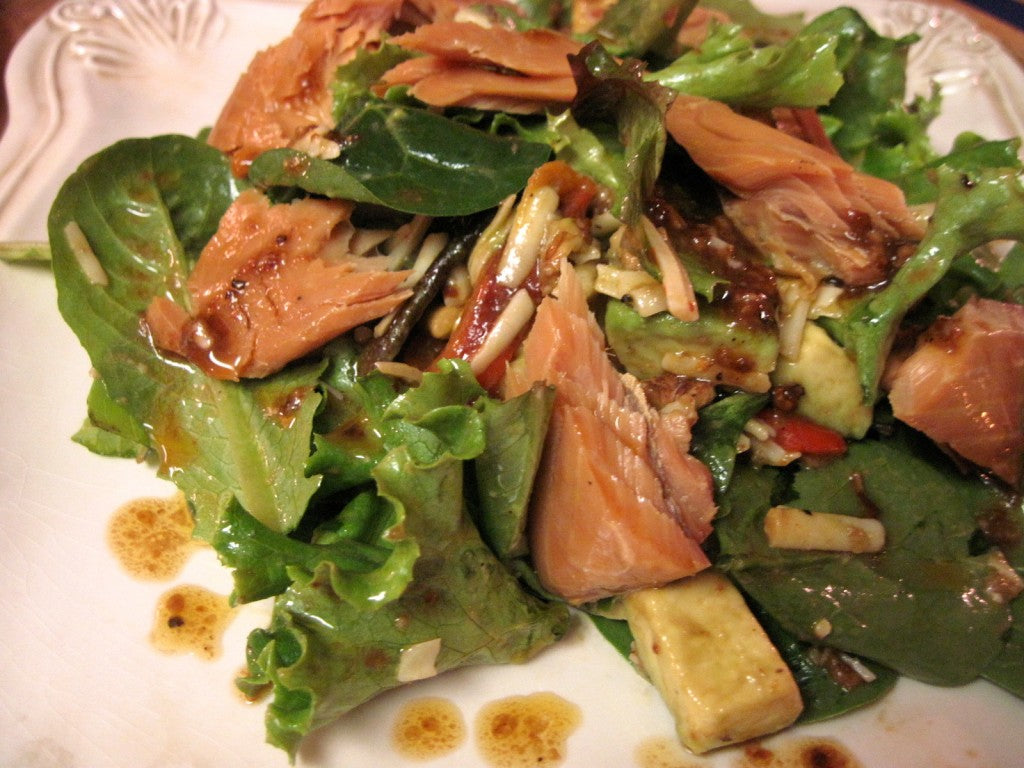 One of our absolute favourite salads is the Painted Desert Salad from the Rebar cookbook. Rebar is a healthy, mostly vegetarian restaurant located in Victoria, BC, and is a favourite of many West Coasters, but also of anyone looking for a piece of killer chocolate cake or a delicious meal inspired by the American Southwest, as many of their dishes are. The bold flavours in this salad bring to mind what it might be like to lean against sun-warmed adobe and look out over a desert sunset, which is pretty much the exact opposite of a drizzly, frosty, wet winter in Canada. It makes a delicious vacation from a cold January day without any worry of ruining your New Year's diet while on holiday, because it's just a salad.
This salad combines the warm flavour of chipotle in a maple-balsamic vinaigrette along with the earthiness of sage, roasted red pepper, smoked cheese, and avocado over salad greens. In a union of West-Coast-meets-Southwest, the salad is then topped with smoked salmon. For a little bit of extra sweetness to go along with the smoke, I recommend using SeaChange's maple glazed salmon or candied salmon for this salad.
Painted Desert Salad with Maple Glazed Smoked Salmon
Adapted from Rebar Modern Food Cookbook.
Serves 2
Ingredients
Vinaigrette
1 garlic clove, minced
1 tbsp balsamic vinegar
1 1/2 tsp pure maple syrup
heaping 1/4 tsp Dijon mustard
1 tsp chipotle purée
salt and pepper
scant 1/4 cup olive oil
Salad
3.5 – 4 oz assorted salad greens
1 roasted red pepper, sliced into strips
2 oz smoked white cheddar cheese, grated
1 avocado, peeled and diced
2 tbsp toasted walnuts, chopped
2 sprigs of fresh sage, minced
1 or 2 100 g packages of SeaChange maple glazed or candied salmon (or smoked sockeye)
Directions
Combine the vinaigrette ingredients in a jar with a tight-fitting lid and shake to combine. Season to taste with more salt and pepper or chipotle purée.
Put the salad greens in a large bowl and add the roasted red pepper, cheese, avocado, walnuts, and sage. Drizzle over 2 – 3 tbsp of vinaigrette and toss gently with your hands – this will keep the avocado from getting squished. Pile the salad onto two plates. Open the package(s) of salmon and drain off the juice, then gently break the fillet(s) into smaller pieces. Place them on top of the salad and drizzle with more vinaigrette, as desired.
Enjoy this post? Enjoy more recipes by Korena Vine at Korena in the Kitchen!
Related Products
The post Painted Desert Salad with Maple Glazed Smoked Salmon appeared first on SeaChange Seafoods - Unique Canadian Gifts.