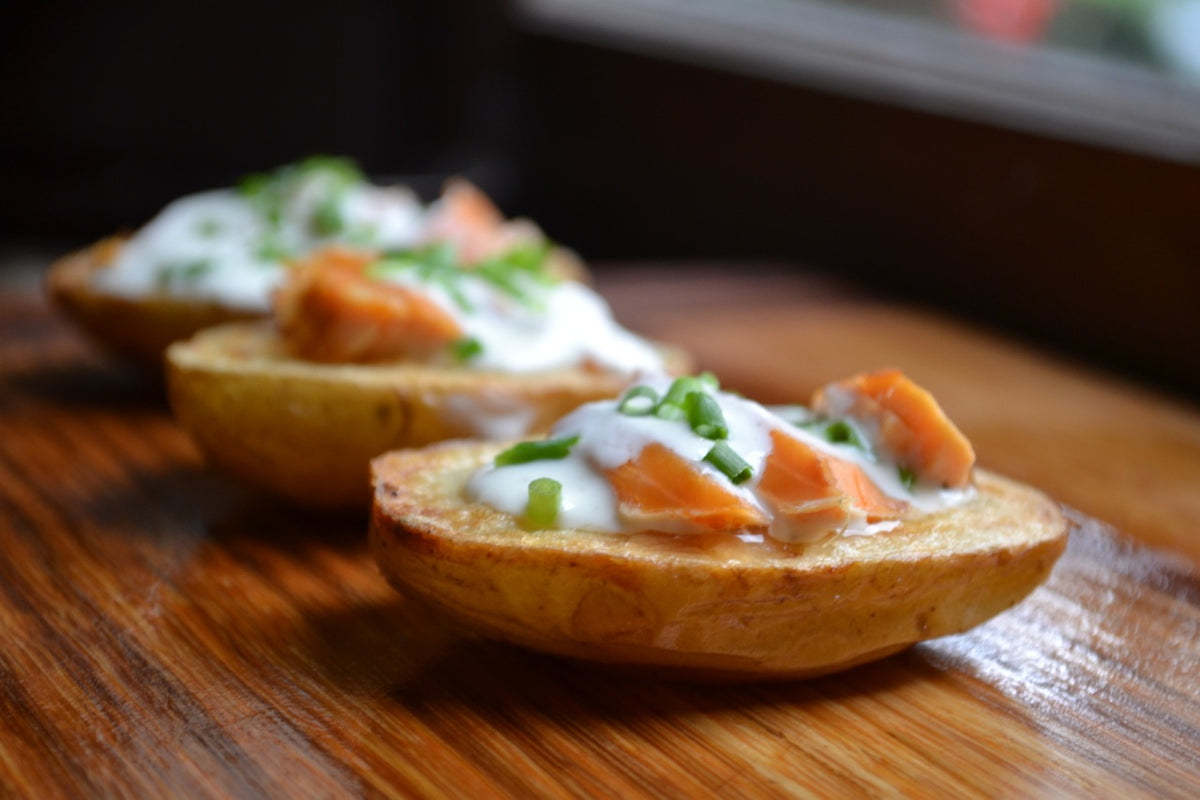 by SeaChange foodie Frances Millerd
Served up on a roasted fingerling potato rather than a cracker or toast, this canapé is more rustic and substantial than the traditional lot. Sour cream can be substituted, but I find that the creamier character of crème fraiche really brings these flavours to life. Serve it as part of a brunch spread or to start off an evening on a patio, along with a crisp glass of riesling or pinot gris.
Roasted Potato Canapés with SeaChange Smoked Salmon
Ingredients
10 fingerling potatoes, cut in half lengthwise
2 tbsp olive oil
pinch of sea salt
pepper
1/2 cup crème fraiche (or sour cream)
1 tsp horseradish
2 tbsp chopped fresh chives
113g pouch of 
SeaChange Smoked Sockeye Salmon
Directions
Preheat the oven to 425° F. Oil a baking sheet with the olive oil and place the potatoes cut side down on the sheet. Bake for about 25 minutes until the cut side is golden. Turn the potatoes over and cook five minutes longer. Let cool.
Meanwhile, mix together the crème fraiche and horseradish with a pinch of sea salt and some freshly ground pepper.  Taste and adjust the seasonings, adding more horseradish if desired.
To assemble, place a few flakes of smoked salmon on each roasted potato half. Top with a dollop of the creamy horseradish sauce (1-2 tsp) and sprinkle with freshly chopped chives. Makes 20 canapés.
Related Products
The post Roasted Potato Canapés with SeaChange Smoked Salmon appeared first on SeaChange Seafoods - Unique Canadian Gifts.