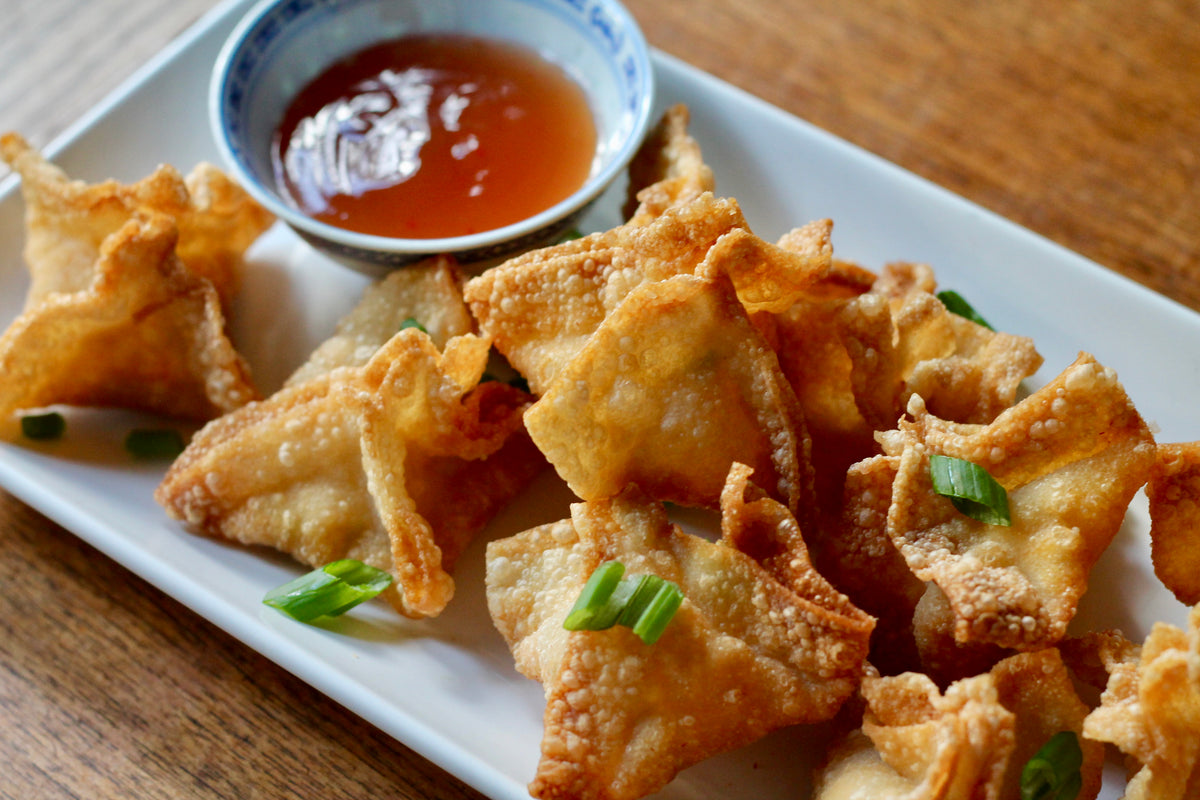 A guest post by Canadian food blogger Korena Vine.
Crab Rangoons are a slightly retro tiki-bar appetizer of deep-fried wontons filled with crab meat and cream cheese, popular in Western Chinese restaurants. Everyone loves crispy deep-fried finger food, and SeaChange's crab pâté makes whipping up a batch of these savoury treats a breeze - you just doctor the pâté (which already has cream in it) with a bit of minced green onion and some totally optional red chili for heat, fold it up in some wonton wrappers, and give them a quick fry until golden brown with crunchy little bubbles all over. They are completely irresistible with sweet and sour or sweet chili sauce for dipping, and no one will believe how easy they are to make. These Crab Rangoons go well with a dry sparkling beverage like prosecco or apple cider, but if you're feeling extra festive, serve these with your favourite umbrella-topped cocktail and be transported to a tiki party on a sandy beach!
SeaChange Crab Pâté Rangoons
Makes about 10 pieces
Ingredients
1 can SeaChange Crab Pâté
1 tbsp minced green onion
a pinch fresh minced red chili or dried red pepper flakes (optional)
square wonton wrappers
neutral vegetable oil, for deep frying
sweet and sour sauce or sweet chili sauce, for serving
Directions
In a small bowl, mix together the pâté, green onion, and chilli or red pepper flakes (if using).
Lay out 3-4 wonton wrappers on your work surface, and place 1 tsp of the pâté mixture in the centre of each. Using your finger, moisten the exposed surface of the wonton wrapper, from the filling to the edge, with water. Bring 2 opposite corners of the wonton wrapper in to the centre, over top of the filling, and pinch firmly to secure. Repeat with the other 2 corners. Working from the centre outwards, firmly pinch together the edges to make 4 seams, squeezing out as much air as possible. Make sure all the edges are firmly sealed together so none of the filling leaks out during deep frying. Repeat with the remaining filling and wontons.
In a medium-sized heavy pot, heat 1 ½ inches of neutral vegetable oil over medium heat until it reaches 375˚F on a deep-fry or candy thermometer. Use a metal slotted spoon or metal spider to transfer 3-4 shaped wontons into the hot oil and deep-fry until golden brown, about 2-3 minutes. Monitor the temperature of the oil so it doesn't burn the wontons, and allow it to return to 375˚F between batches as necessary. Drain the fried wontons on a paper towel-lined plate, and repeat with the remaining wontons.
Serve hot with sweet and sour sauce or sweet chilli sauce for dipping.
Related Product