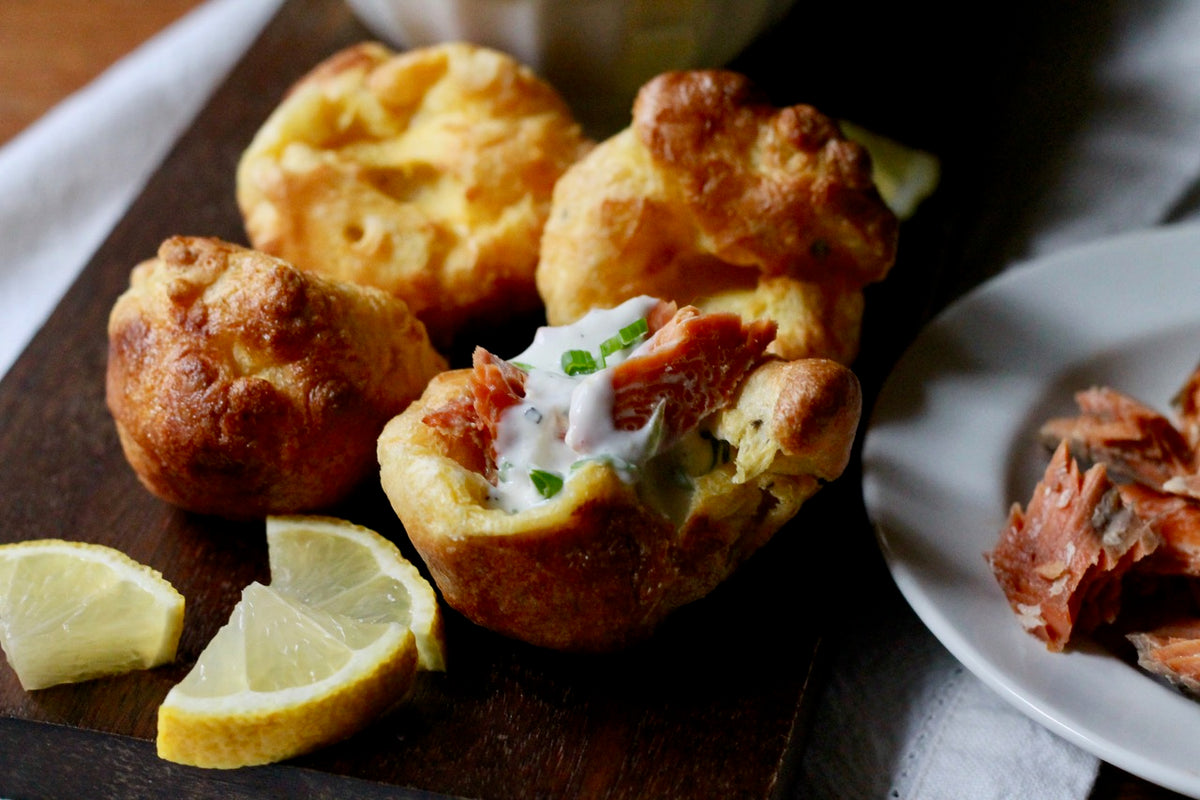 A guest post by Canadian food blogger Korena Vine.
This easy-yet-impressive appetizer is great for casual winter holiday entertaining. Hot and crispy Yorkshire puddings are stuffed with SeaChange's signature smoked sockeye salmon and topped with a zingy lemon and horseradish cream, the perfect balance to the smoky richness of the salmon. Part of the fun is putting all the individual components on a serving platter so guests can assemble their own perfect bite – plus it means less work in the kitchen for the host and more time to enjoy the holidays with your guests!
To make your party prep even more streamlined, the Yorkshire puddings and lemon-horseradish cream can both be made ahead of time – simply pop the Yorkshire puddings in the oven to re-heat when your guests arrive, then ten minutes later, wow them with this delicious spread.
Mini Yorkshire Puddings with SeaChange Smoked Salmon & Lemon-Horseradish Cream
Makes 16, enough for about 6-8 people
Ingredients
Lemon-Horseradish Cream
½ cup sour cream
1-2 heaped tsp prepared horseradish
zest of ¾ lemon
juice of ½ lemon
1 ½ tbsp finely chopped chives or green onion (green part only), plus extra for garnish
salt & pepper
Mini Yorkshire Puddings
vegetable oil
2 large eggs
6 tbsp milk
¾ cup all purpose flour
pinch salt & pepper
Directions
227 g package SeaChange Smoked Sockeye Salmon
lemon wedges
Combine sour cream, horseradish, lemon zest and juice, and 1 ½ tbsp chives or green onion in a small bowl. Season with salt and pepper and adjust horseradish and lemon juice to taste – it should be bright and zippy. Transfer to a small serving bowl and garnish with extra chives or green onion. Chill until ready to serve.
For Yorkshire puddings, preheat oven to 425˚F with rack in upper third. Pour about ½ tsp vegetable oil in each of 16 compartments of a mini muffin tin, and put the tin in the preheating oven.
In a medium bowl, vigorously whisk eggs, milk, flour, salt and pepper together to make a thin batter, about the consistency of heavy cream. Add a few drop of milk if needed to adjust the consistency. Transfer batter to a jug with a spout for easy pouring.
When the oven is preheated, remove the hot muffin tin and immediately close the oven door. Quickly pour the batter evenly between the oiled compartments, then return to the oven. Bake for 12-15 minutes without opening the oven door, until Yorkshire puddings have puffed up and turned golden brown and crispy.
To serve, open package of SeaChange Smoked Sockeye Salmon by cutting off the top with scissors and draining off juice. Break salmon into bite-sized pieces. Arrange Yorkshire puddings, salmon, and lemon-horseradish cream on a serving platter with lemon wedges. To eat, stuff a Yorkshire pudding with a few pieces of smoked salmon and top with a dollop of lemon-horseradish cream and squeeze of lemon juice.
Make ahead: the lemon-horseradish cream can be made ahead and chilled until serving. The Yorkshire puddings can also be baked ahead of time and re-reheated in a 350˚F oven for 5-7 minutes, until hot and crisp.
Related Products