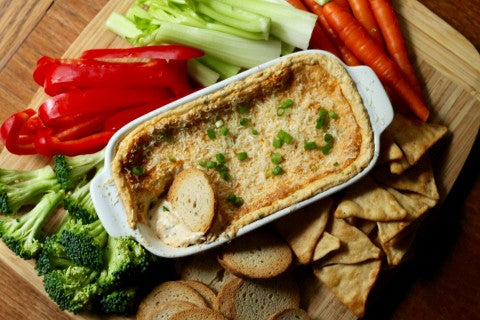 A guest post by Canadian food blogger Korena Vine.
SeaChange seafood pâtés are great to have on hand for a quick appetizer when guests arrive, but if you have a little more time, this warm and creamy Baked Crab Dip is exactly what you are looking for, especially as we head into the colder months. Mix a few easy ingredients with a tin of SeaChange Crab Pâté (or you could use Lobster pâté), bake until hot, and then serve with the dippers of your choice – we suggest a selection of cut up veggies, crackers, and sliced baguette. Mildly flavoured with the sweet crab pâté and incredibly addictive when scooped onto a cracker or broccoli floret, try pairing this dip with a dry sparkling wine or apple cider, or a crisp, mild beer. Either way, this crowd-pleasing snack will disappear so quickly that you might want to consider making two batches!
SeaChange Baked Crab Dip
Serves 4 – 6 as an appetizer
Ingredients
125 g cream cheese, softened to room temperature
100 g tin SeaChange Crab Pâté (or Lobster Pâté – see note below)
1/4 tsp Worcestershire sauce
2 tsp lemon juice
2 tbsp chopped green onions, divided
Salt and freshly ground pepper, to taste
Dash of hot sauce (optional)
1 tbsp freshly grated parmesan cheese
Paprika, to garnish
Crackers, sliced baguette, and/or cut up veggies to serve
Directions
In a small bowl, beat the cream cheese until smooth, then add the pâté, Worcestershire sauce, and lemon juice and stir well. Fold in 1 1/2 tbsp chopped green onions and season to taste with salt, pepper, and hot sauce (if desired). Pour into a small oven proof dish and sprinkle with parmesan cheese. Bake at 375ºF for 25 – 30 minutes, until the dip puffs up, the centre is hot, and the top is golden. Cool for a few minutes (the dip will sink), then garnish with a sprinkle of paprika and the remaining 1/2 tbsp chopped green onions. Serve warm with crackers, baguette, and/or veggies for dipping.
Note
To make this dip using SeaChange Lobster Pâté, replace the Worcestershire sauce with 1/4 tsp brandy.
Related Products
This recipe goes well with:
The post SeaChange Baked Crab Dip appeared first on SeaChange Seafoods - Unique Canadian Gifts.