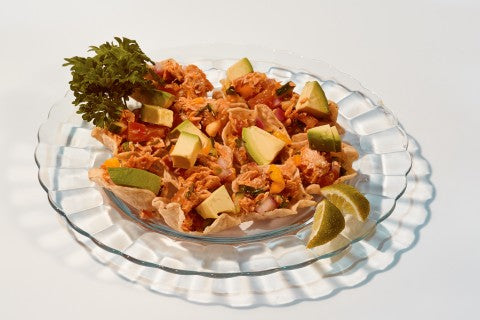 When SeaChange turned 30 last year we threw a party to celebrate with our local Salt Spring Island community. Former SeaChange production manager and wonderful chef Jeanette Larson created the delicious party food menu. This was one of our favourites, and perfect for a big summertime party with family and friends.
Makes 50-70 bites
Ingredients
1 454g pouch of SeaChange Smoked Sockeye Salmon
1 red bell pepper
1 yellow bell pepper
1 green bell pepper
1 jalapeño pepper
3 medium tomatoes
1/2 medium cucumber
1/2 medium red onion
juice of 2 limes
sea salt
50-70 tostada scoops
1/4 cup parsley or cilantro
Avocado to serve – optional
Directions
Dice the peppers, tomatoes and onion approx 1/4". Slice the cucumber lengthwise, remove the seeds, then dice 1/4". Finely chop the jalapeño, leaving seeds in or out as desired for heat control. Stir all the veggies together, squeeze in the lime juice, and season to taste with salt. Let the mixture sit in the refrigerator for about an hour to allow the flavours to meld.
Open the package of Smoked Sockeye Salmon with scissors and drain off the juice. Slide the salmon out onto a plate and break it into small pieces. Stir the salmon gently into the veggies, then add a spoonful of the mixture to each tostada scoop. Serve with chopped avocado (if using) and parsley/cilantro.
Note
This recipe would be a lovely light lunch dish with avocados and tortillas for 6 people. Keep the ratio of 1 tomato for every bell pepper and adjust quantities of onion, limes and parsley.
Related Products
The post Ceviche Inspired Sockeye Salmon appeared first on SeaChange Seafoods - Unique Canadian Gifts.