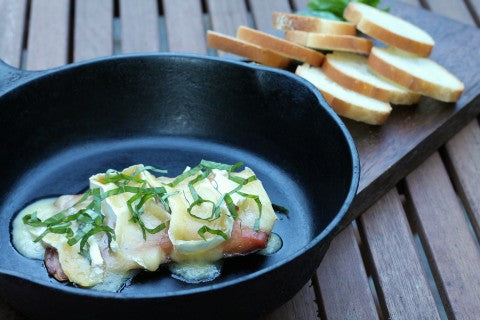 A guest post by Canadian food blogger Korena Vine.
Summer on the West Coast hung on well into September, but the passage of the Autumnal Equinox almost instantly brought fall in the form of brightly coloured leaves and some much needed rain. While I'm not quite ready for full-fledged autumn comfort food just yet, this smoked salmon appetizer does a nice job of bridging the seasons: sweet Maple Glazed Smoked Salmon, served warm topped with melted brie and garnished with a sprinkle of fresh basil (which might seem like a summer ingredient until you realize  you can grow it year-round indoors).
A warm hors d'oeuvre like this is just the thing for a chilly fall evening, and it would be a great nibble to serve to dinner guests waiting in anticipation for their Thanksgiving meal. Serve alongside some slices of baguette and a glass of light and crisp white wine for a truly lovely way to celebrate the arrival of autumn.
SeaChange Maple Glazed Smoked Salmon with Brie Cheese and Basil
Makes hors d'oeuvres for 4 to 6
Ingredients
1 x 100 g package SeaChange Maple Glazed Smoked Salmon
40 g Brie cheese
1 small handful basil leaves, sliced into ribbons
1 fresh baguette, sliced
Directions
Open SeaChange Maple Glazed Smoked Salmon with scissors and slide salmon onto oven-proof serving dish, drizzling juice from pouch over salmon. Cut Brie into slabs about 1 cm thick and place on top of salmon to cover. Bake at 200° F for 20 minutes, until Brie is partially melted. Remove from oven and sprinkle with basil. Serve warm with sliced baguette.
Related Products
The post Maple Glazed Smoked Salmon with Brie and Basil appeared first on SeaChange Seafoods - Unique Canadian Gifts.