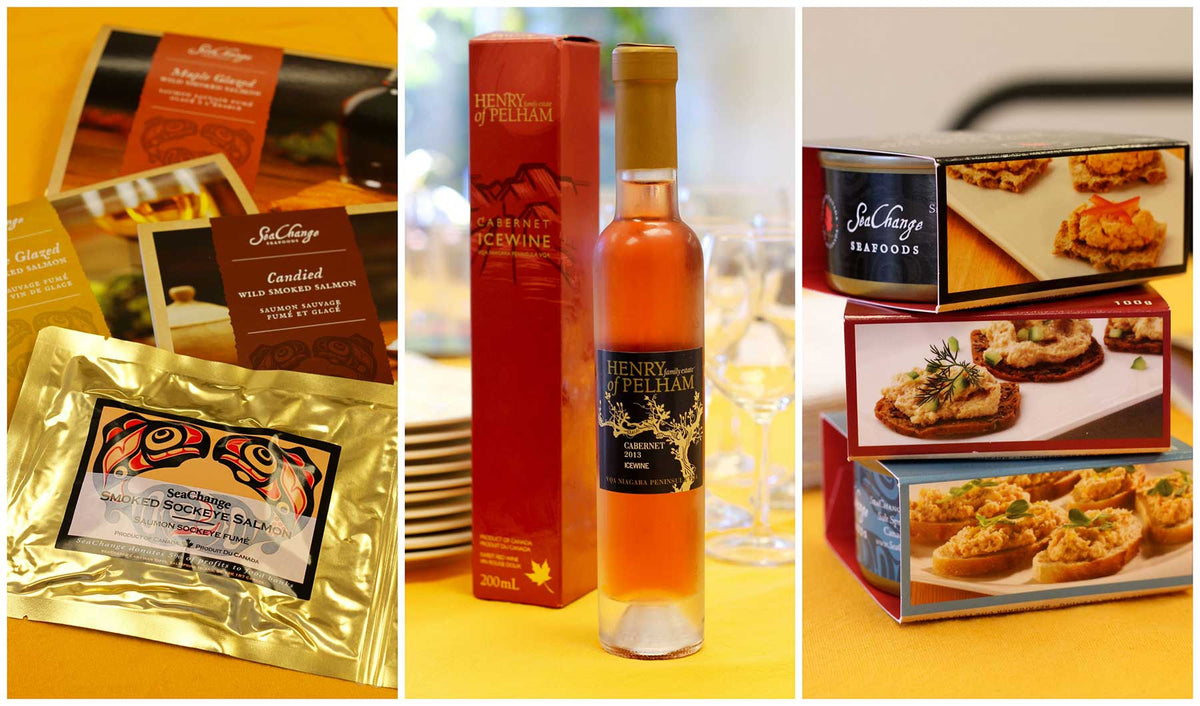 When you think of famous wine-producing regions, what do you think of? California's Napa Valley? Bordeaux, France? Tuscany? Chile? You might not think of Canada, but in fact we have two notable wine regions: the Okanagan Valley in British Columbia, and the Niagara Peninsula in Southern Ontario. British Columbia wines are a bit of a well-kept secret – their supply is often exhausted by local demand and they can be hard to find outside of the province – however Ontario's icewines are famous around the globe. Icewine is a sweet, almost syrupy wine made from grapes that have been left to freeze on the vine. Because of its sweetness, most people assume that it is a dessert wine (and of course it does go well with dark chocolate or a cheese course after a meal) but it is actually much more versatile. It is surprisingly delicious paired with strong flavoured savoury foods – such as smoked salmon – and is great to sip on with appetizers.
We recently tried pairing SeaChange's seafood pâtés and smoked salmon with three icewines from Henry of Pelham Family Estate Winery, an award-winning wine producer in the Short Hills Bench area of the Niagara Peninsula. While taste and preference are subjective, there were several combinations of icewine, smoked salmon, and pâté that all six tasters agreed were very complimentary and worth recommending.
The Cabernet Icewine, pink-tinged with a jammy, plummy flavour, is great with both the Maple Glazed Smoked Salmon and the Smoked Salmon Pâté. The smokiness of the pâté is especially nice with this wine. An aged cheese (such as cheddar or Gruyère) would also be a good addition to either of these pairings.
If you are looking for one wine to serve with several SeaChange products, the Riesling Icewine is the most versatile in terms of pairings. With its bright, juicy citrus notes, it compliments the Smoked Sockeye Salmon, Candied Wild Smoked Salmon, and Ice Wine Glazed Smoked Salmon, and is delicious with the Crab Pâté, brightening the crab flavour and giving it a buttery taste.
The Vidal Icewine, which is the sweetest of the three wines we tried, also brings out a buttery flavour in the Crab Pâté, and goes well with the stronger flavour of the Smoked Salmon Pâté. Similarly, the extra smokey Candied Wild Smoked Salmon is a good combination here.
Your tastes may differ, but hopefully these suggestions give you a starting point for pairing SeaChange products with sweeter wines, and encourage you to try icewine in situations other than dessert!
The post Pairing Suggestions: Icewine with SeaChange Smoked Salmon and Pâté appeared first on SeaChange Seafoods - Unique Canadian Gifts.