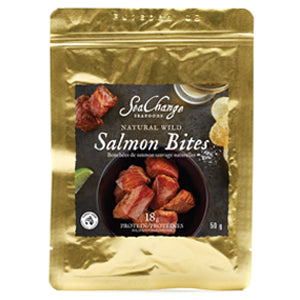 Natural Wild Salmon Bites (Wholesale Customers Only)
A delicious and healthy high protein snack!
Our high quality wild salmon bites are unique, made from whole strips of smoked salmon fillet and generously seasoned with all natural ingredients. At 18 g protein in 50 g serving, they are a fantastic super food snack.  Because they are heat processed in a gold foil pouch, no preservatives are necessary. Perfect for picnics, travels, outdoor adventures. They are chewy, salty-sweet and extremely delicious!
Ordering Information
One size / 50 g / Case of 12 / 14.5cm x 20cm x 1.5cm
Wholesale: $66.00
Order code: 8173
One size / 50 g / Case of 6 / 14.5cm x 20cm x 1.5cm
Wholesale: $37.00
Order code: 8173
Features

Contains sustainable wild Pacific salmon.
Stays fresh in a backpack or cupboard till you need it.
Needs no refrigeration in any climate.
Perfect for picnickers, travelers, outdoor adventurers.
Hangs from merchandising strips, clips or hooks.
Ingredients
Wild Pacific chum salmon, cane sugar, sea salt, natural hardwood smoke.
Source
British Columbia
Shelf Life
5 years
Storage
Refrigerate after opening.
Nutritional Label